OnePlus 2's Android Marshmallow-Based OxygenOS Update Being Soak Tested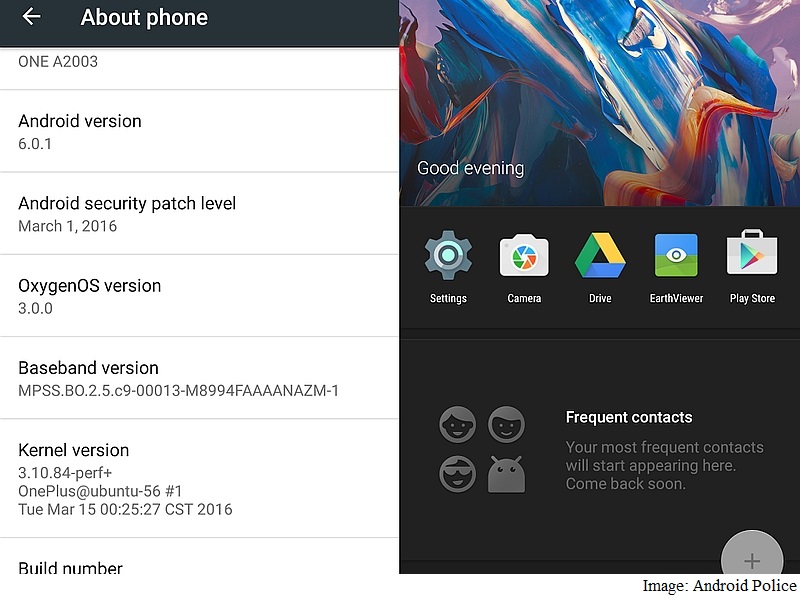 OnePlus 2 earlier this month got OxygenOS 2.2.1 with some new features. To recall, the company inNovember last year had detailed it would be rolling out its Android 6.0 Marshmallow-based OxygenOS update to the OnePlus 2 in Q1 2016. With that deadline soon approaching, it is no surprise the company is reported by users to be testing an OxygenOS 3.0 update based on Android 6.0.1 Marshmallow.
At least one user (via Android Police) appears to have received the update over-the-air (OTA), sharing a screenshot with the publication. Without an official announcement by the company and the lack of wide-ranging user reports, it is being speculated to be a soak test – a term used to describe the rollout of an update to a limited number of users to identify last minute bugs ahead of the official rollout.
The screenshot shared by the user not only confirms OxygenOS 3.0, but also shows some other changes made in the ROM such as inclusion of new wallpapers, a slider for alerts, and customisations to the homescreen. Nothing more is yet known about the new OS version, though it appears to be significantly different from the Marshmallow implementations created by other manufacturers.
As for the Marshmallow update for the OnePlus One, the company's first smartphone, OnePlus had back in November announced that users can expect the Cyanogen OS-based update in Q1 2016. With the first CM13 Snapshot builds based on Android 6.0.1 Marshmallow now rolling out, the CM13 OS rollout does not appear to be too far away.
Earlier this month, OnePlus 2 got OxygenOS 2.2.1 update with RAW file support for the native camera app. The update additionally fixes the occasional image corruption issue in the OnePlus 2 camera. It is worth mentioning that the OnePlus X also recently got an update that fixes several camera issues. However, it was not an OS update.
The new OS version also features improvements in Bluetooth compatibility, roaming issues, and Ultra-SIM compatibility. Also included in the OxygenOS 2.2.1 incremental update are GMS 3.0 upgrade, security patch update, and Romanian language support.
The previous version – OxygenOS 2.2.0 for OnePlus 2 – brought fixes for dual SIM preference selection issues in settings; added NTFS and exFAT support for OTG; fixed Google Camera photo-sphere and panorama bugs, and also brought screen temperature adjust options directly from quick settings.
It is worth mentioning that OnePlus Co-Founder Carl Pei last month revealed that OnePlus 2 successor, likely called the OnePlus 3, will be launching in the second quarter of this year. He said that OnePlus 3 will be arriving in the US and other markets as an unlocked smartphone and will be sold directly by OnePlus. The Chinese tech firm may also come up with a "better buying process", details of which were not disclosed.